If you are interested in Google Adsense alternatives, five other ad network providers include Ezoic, Gourmet ads, Monumetric, Ad thrive, and Mediavine. Each advertising service has different program policies, but all of them will pay money for impressions, and clicks. Payment cycles typically run about every 30 days. 
Hosting an advertising program on your website is a great way to increase revenue for your online business.
If you ask a new blogger what their monetization plans are and what ad network platform they use, most likely, they will say "Google Adsense."
Others who have been there in the business for some time, will tell you it depends on your audience, niche, and what your website is all about, amongst other factors.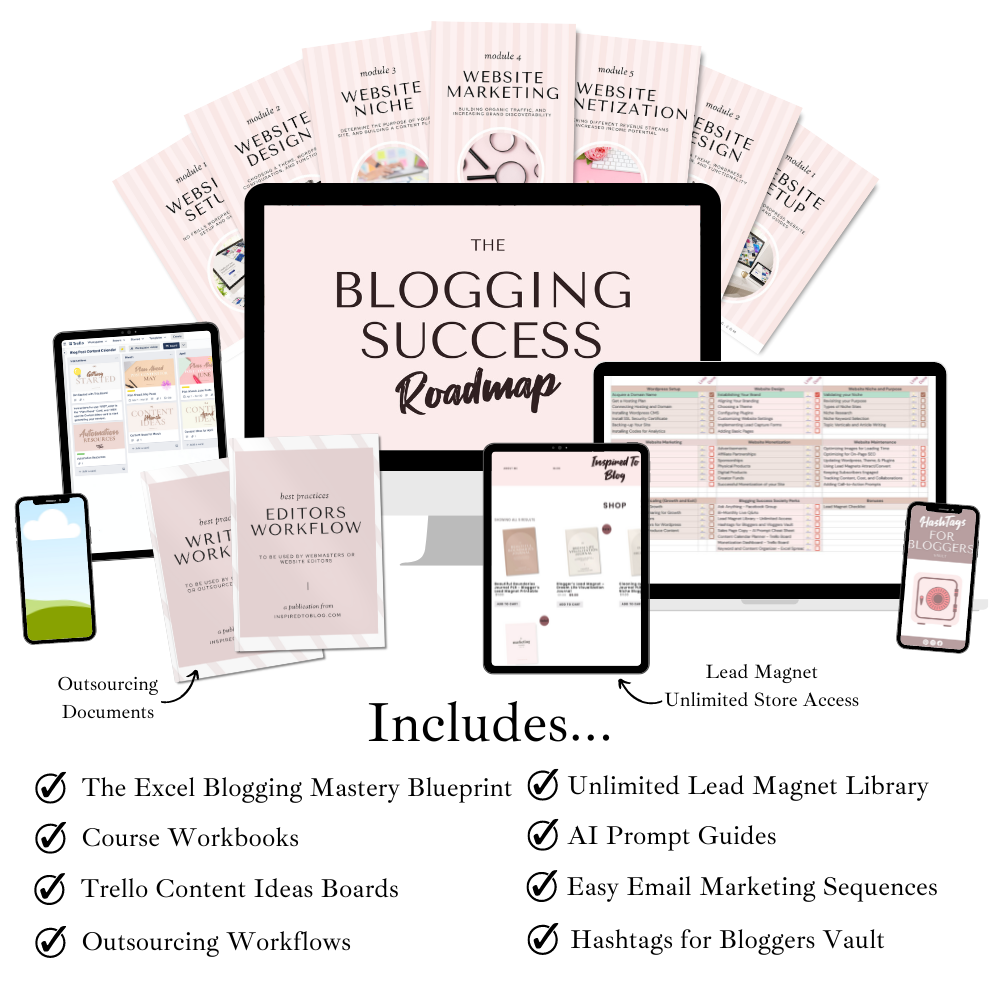 Website Monetization 101
If you are interested in learning how to monetize your site successfully, my Blogging Success Roadmap course has launched and is also available in our Society membership program – Get LIVE weekly group coaching, unlimited access to our lead magnets library, our 360+ Blog Ideas Content Calendar, the Premium Keyword and Content Organizer and more.
Thousands of publishers (website owners) go with Google Adsense as their monetization strategy, but it doesn't mean that there aren't other alternatives to consider.
In this article, you will discover the five best Google Adsense alternatives you can try.
They have minimum requirements with fast approval, and you can make lots of money from them. Let's see these top five adsense alternatives below:
Ezoic ads Network
To increase the chances of earning more, publishers can upgrade their websites using various ad formats.
One of the popular ad networks that are a perfect alternative to Google Adsense is Ezoic. Ezoic offers different ads formats like an expandable unit, image ads, video ads, text ads, and others.
Adsense and Ezoic also show ads on mobile, but Adsense is not available to all publishers, while Ezoic accommodates all publishers.
Using Ezoic is free without any payment requirements on the platform. All you need to do is sign up and monetize your website.
Another reason that makes Ezoic a better alternative for Google Adsense is that they offer higher eCPMs that you can use to boost your blog revenue.
The publisher threshold of the Adsense network is $100, but Ezoic has a payment threshold of $20, meaning that you can withdraw your earnings as soon as it is accumulated.
Gourmet Ads
Gourmet ads are a popular choice among food and cooking-themed blogs. Regarding food advertising and branding, Gourmet ads is typically the ad network dishing it out (Pun Intended).
Food, diet, and nutrition based niche bloggers can take advantage of this ad network to monetize their content.
Different advertisement unit formats are included for this network, which include sponsored posts, video ads, and traditional display ads.
Installing ads from this network can be fairly easy as installing script code on the header of your site. The Gourmet ads support will also set this up for your on your behalf.
The different ad formats are available to select from, and run as AST (Asynchronous) Ad Tags – which means that the ad placements are loaded onto the site before the site loads, so everything loads asynchronously – reducing load speed times and improving performance of a site with ads (we all know that advertisements can slow down sites).
This is a preview of what the payment timelines look like for those that are wondering what the gourmet ads console looks like.
I currently have these ads running on my food blog – Pepperzest.com.
In my personal opinion – Customer service does engage fairly quickly, are easier to get a hold of but can be quick to pull the plug on your site, so tread carefully.
The minimum payment threshold for Gourmet ads is $100, and based off my personal user experience – I believe they likely pay lower than usual ad rates (but are transparent about it).
For publishers in the cooking and food niche, using Gourmet ads instead of Google Adsense is better because it is narrowed down to your niche industry.
They have a global inventory, and CPMs offer a high potential of giving you more revenue.
Only people in the food, coupons, recipe, or cooking industry work with Gourmet ads.
To be considered, you should have at least 10 thousand views (this may need to be re-confirmed) per month and at least three ads per page.
Monumetric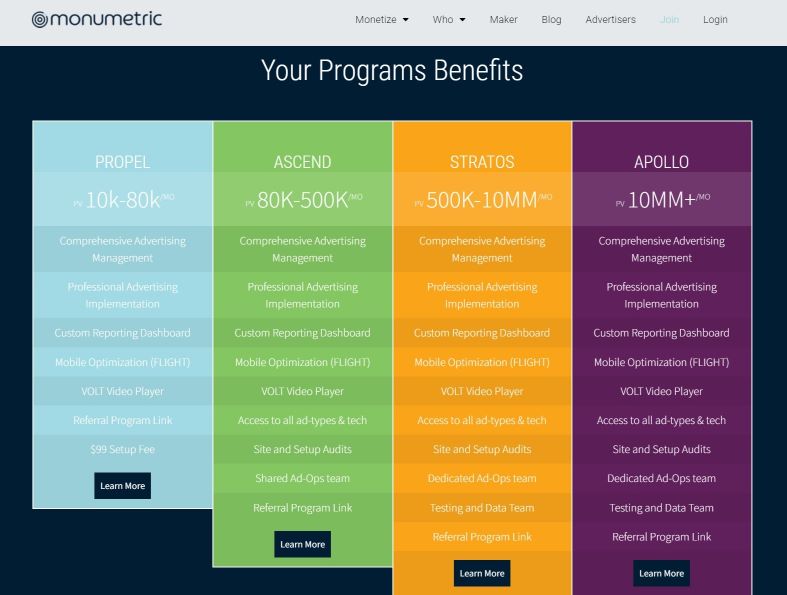 If what you have is only a reasonable amount of traffic on your website or blog, or you are having a difficult time getting approved by Google Adsense, Monumetric is here to serve you.
This ads network uses the best CPM offers to increase your revenue. When you set up the ad inventory on your website, Monumetric then places the right CPM that will help you earn the most money.
Momumetric uses advanced tools to manage your ad. This includes the ads on the page and where each ad is placed.
For instance, if you don't want ads from a particular company or firm to appear on your page, Monumetric will help you control such advertisements.
Momumetric does not require you to have so many metrics like Google Adsense to get approved. With 10 thousand monthly views on your page, you will make money with Monumetric.
Once you have up to that amount of views, you can set up your account and start placing your ads. Alternatively, if you have below 80 thousand views, Monumetric will charge you a one-time set-up fee of $99.
Another advantage Monumetric has over Google Adsense is that apart from using CPM offers to help websites make money, it also uses a unique CPI model (Cost per impression).
For every view the website gets on the ad, you get paid. Lastly, to mention, Monumetric has a minimum threshold of $10.
Adthrive
Another Google publishing partner to look out for is Adthrive. It operates as a premium ad network.
Adthrive implements the use of a custom ad strategy that is specific to the publisher's website. Each publisher works closely with a team to ensure the best approach to boost revenue.
The platform uses advanced tools and technology to ensure maximum engagement for its clients.
Compared to what is obtainable with Adsense, publishers should expect at least a 75% increase in how much they make from ads.
Adthrive, on the other hand, loads asynchronously, meaning that each of your content will load individually. In this way, a user on your page doesn't experience any lag on the site.
Adthrive has a more flexible payment threshold of $25 only. It only accepts applications from the best publishers, so to join the platform, you must meet some requirements.
Requirements include stellar and engaging content and 100,000 views on your blog per month. You must have most of your following from Tier 1 countries such as the US, UK, AU, CA, and NZ.
Mediavine
If what you want to show is high-converting ads on your website, Mediavine service is what you need. The traffic threshold to apply for Mediavine is at least 50,000 pageviews.
Mediavine will not take a site that is performing below that amount of traffic, but will keep a site if traffic does start declining.
It operates as a full-service ad management platform certified by google that you can use to increase your earnings on your site.
Mediavine is also an advertising partner with Google, just like the Adsense ad network. Regarding the quality of content promoted, it ensures they advertise high-quality content from publishers.
Also, most of the ad inventory of Mediavine comes from Google's AdExchange.
Mediavine is the ad network monetization goal for many bloggers, niche site owners, and webmasters that want to build their online businesses.
Currently, 9000+ publishers are signed on to Mediavine, reaching up to 125 million customers or more.
In its years, Mediavine has formed partnerships with different media networks, including Google.
To sign up as a Mediavine publisher, go to the website and create an account.
Your website should have at least 50,000 pageviews in the last 30 days, and your content should be optimized with unique and high-quality content.
Once you meet the minimum requirements, your account will be approved, and then you can run ads on your page.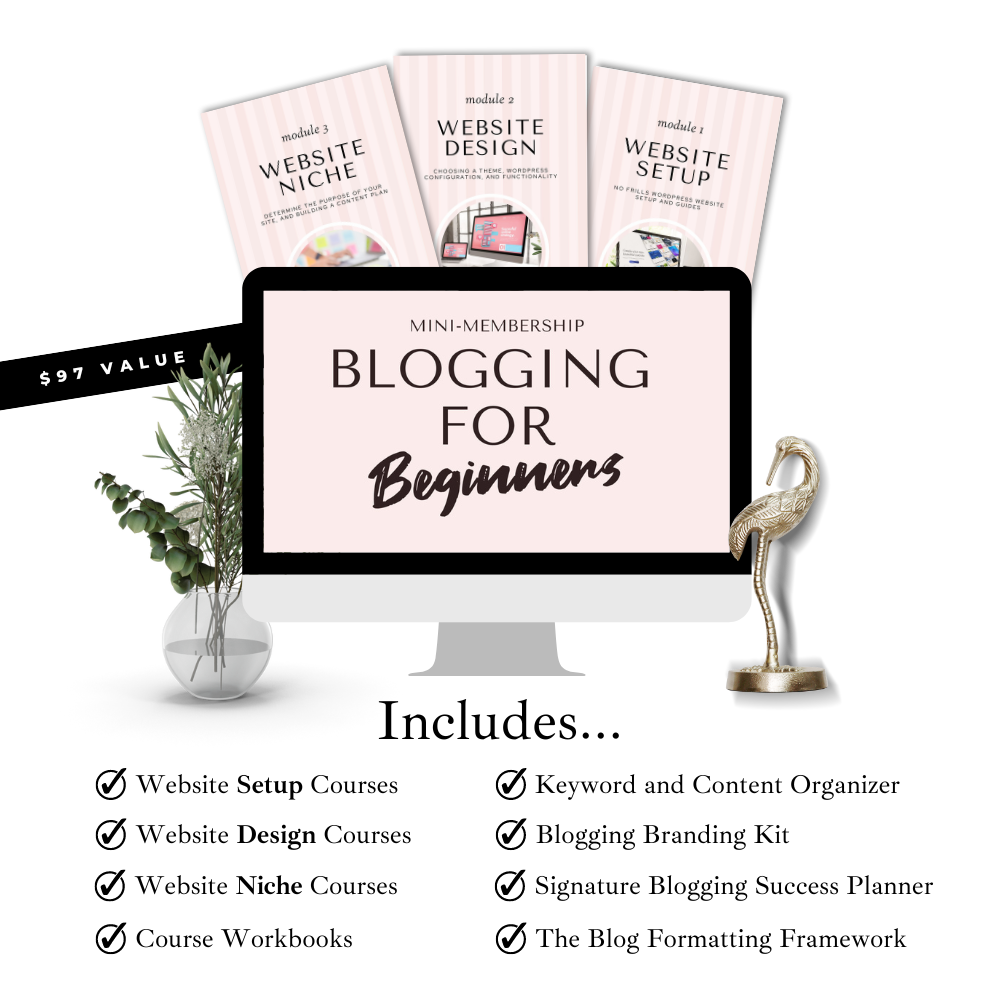 New to Blogging?
If you are new to blogging, and would like to get started in your publishing journey, we have a blogging for beginners program.
Learn how to setup, design, and niche your site down in a fast and simple way so that you can focus on getting your site monetized sooner.
* For less than your next Starbucks latte ☕
User Experience Advice
Just a note on running content ads on your website, you will want to make sure not to bombard your visitors with a boatload of advertisements, as this may increase your bounce rate and reduce the user experience on your site.
The Ezoic training also discloses that the more ads you display on a page, the less you will get per ad because it devalues the real estate on your site.
Personally, I try to keep ads to a minimum on all my sites – for a maximum of six (6) in content ad units.
Mostly below the header and below the title and first image, because this will make the user feel like they are being duped or distracted from their main search intent.
Keep these user preferences in mind when placing ads on your site, and remember that the primary focus for your site is helping your visitor/audience find an answer to their query.
Some user browser settings may block ads from showing up during their web search, this is also something to think about when it comes to your audience.
On a final note:
You have seen the top five Google Adsense alternatives. Whether you are just starting as a blogger with decent traffic, you can still earn more money by monetizing your website.
In this article, we have outlined different Google Adsense alternatives for all kinds of publishers, so all you need to do is choose the one that best suits you.