My Experience with Ezoic | Goals for Blog Growth | Does Content Optimization Work?
Well, it's been few days actually, 9 days to be exact.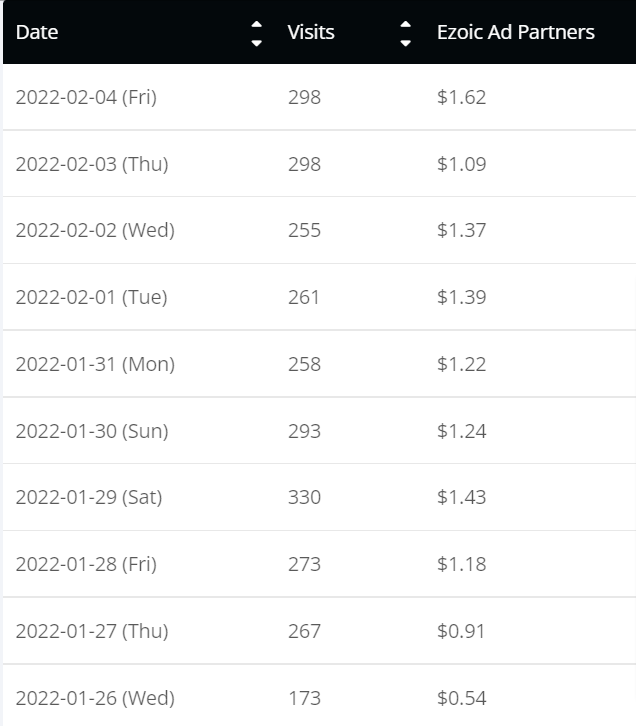 I'm impatiently waiting to see what the metrics are like for the month because right now it's looking like my display ads income is only generating approximately $1.20 on average per day.
This is for a food blog niche website that I purchased off blogsforsale.co. It gets approximately 10K visitors a month and over 11K sessions per visit.
Food blog niches generally do much better with display ads than most other niche blogs because advertisers prefer the target audience that visits them.
I am not sure why this is the case, but it probably has to do with the food industry in general having a lot of consumable goods. Goods that need to be replenished often, and turn out to be a subscription in a sense.
The blog was previously monetized through an ad network known as GourmetAds.
The first time I heard about Gourmetads was when I purchased the website. Before that I've only heard about the very popular ad networks such as google adsense, ezoic, mediavine, and adthrive. These are progressively get harder to enter and pay better rates.
the Gourmet Ads network was only paying approximately $25 – $30 a month over the last 12 months for those visitors' impressions. The reason I changed over to Ezoic is that it is a bigger platform, has a huge community on Facebook, and is easier to navigate.
Although, from the looks of the new Ad network installation, it appears I will only be getting the same amount as well.
My Brief Experience with Ezoic
For some reason, I had the universe working against me when I first started trying to get into monetization via display ads. I think the reason is that ad networks like Ezoic want to see tangible traffic for your site before displaying ads on them.
Before acquiring a website that had established traffic and ad revenue, I attemted to submit a website that has been getting approximately 30-45 hits a day. I ran into some issues with the monetization provess was not able to successfully monetize it. I eventually will be able to pinpoint the reason why – at a later time.
The pre-requisite courses on the Ezoic platform were pretty streamlined and easy to follow. The exam was short, and I passed it on the first try. If you can retain information easily, you will be able to pass the Ezoic test with a minimum score of 75%.
Goals for Blog Growth
I realized that in order to grow this blog to 5 times the current level of traffic, I am going to need to heavily optimize my existing content (currently 251 articles). So far, since I've acquired the website; I have only optimized one post.
I realized thereafter, I may have actually affected the ranking of the page inadvertently because I changed the permalink structure on that single post (in my attempt to optimize the entire post).
When optimizing a page that is already ranking, do NOT change the permalink structure. Only, change the URL if it is not ranking well, like beyond 90 in ranking in the search engine results page (SERP).
If you aren't familiar with the process of content optimization, it basically includes assessing your page for keyword relevancy, formatting it nicely, and possibly adding more content. This process is fairly simple, but can be time-consuming.
Does Content Optimization Work?
Yes, content optimization can help your blog articles get to the top of the search engine results page (SERP) if properly used and implemented.
Results will vary and will also depend on what tools you use to optimize. Personally, I use Frase for all my content production needs. Even if the content is started on a notepad application or given to me by content writers, most if not all (with the exception of this blog) is placed in the Frase workflow.
Frase is simple, easy to navigate, and helps me streamline my content workflow. On many occasions, I've had content writers do some writing for me, they mentioned having access to keyword and optimization tools. But when measured against the metrics that Frase provides, I always see there are many missed opportunities for optimization.
There are so many benefits to using this software, that eventually I will have to dedicate a whole post to it soon!
Ezoic Income Reports
With that said, I will be reporting on my monthly income reports every thirty days or so. During this process, I have planned to prioritize content optimization as the first step in growing my traffic with this site. I will be designating this food niche blog as my first case study website.
The goal will be to increase blog revenue by 10% each month, initially, this will be easier in the beginning and become progressively harder. Wish me luck and be Inspired to Blog!